My lifelong love of canids has led me to work with domestic dogs, gray foxes, red foxes, coyotes, and gray wolves. My canid work, from most to least recent, is listed below.
---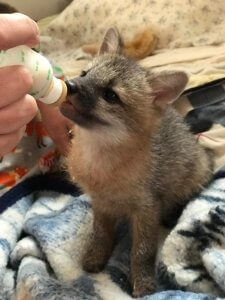 Gray Fox Kit Parent
April – September 2019
Wolf Park, Battleground IN
Hand-raised two gray fox kits to be ambassador animals, assisted in creating training plans and protocols, utilized positive reinforcement training, assisted in constructing a new gray fox enclosure, led sponsor visits with fox ambassadors, wrote sponsor updates
---
Social Organization, Behavior, and Vocalizations of Semi-habituated Gray Foxes
June – July 2018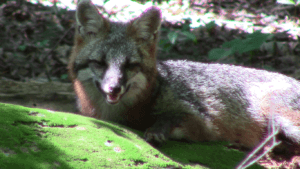 Duke Lemur Center, Durham, North Carolina
Role: Principle Investigator
Data collection and relevant skills: collected data opportunistically using narrated video recordings whenever foxes were sighted, employed 17 camera traps, used a Tascam to record vocalizations, input data into excel, kept a 16,500-word journal of observations.
Read more about this project here.
---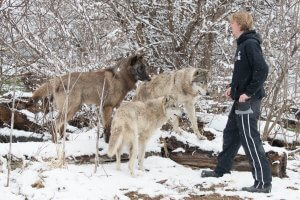 Enhanced Intern at Wolf Park

January – April 2018
Battle Ground, IN
Responsible for most aspects of red and gray fox training and enrichment, assisted in advanced training with wolves, used BORIS to develop an ethogram of red and gray fox behavior and code videos, compiled an enrichment book and a system of logging enrichment activity for all species at Wolf Park.
Read about my experience here.
---
Intern at Wolf Park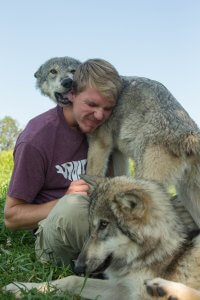 May – August 2017
Battle Ground, IN
Assisted in the training and socialization of two wolf litters, assisted in the ongoing training of wolves, coyotes, foxes, and bison, led public tours and species specific educational talks, responsible for most aspects of husbandry including preparing diets, feeding and medicating the adult canids, and providing environmental enrichment for all animals.
Read about my experience here.
---
Intern at Palmetto Animal Assisted Life Services (PAALS)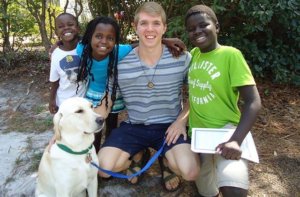 May – August 2015
Columbia, SC
Trained service dogs for people with disabilities and mobility problems, analyzed and recorded dog behavior, served as a camp counselor for kids with and without disabilities, provided overnight care for sixteen dogs, assisted in educational presentations and demonstrations.
---