Although research has been my primary focus the last few years, i have always been of the belief that research should never become an isolated bubble. Therefore, I have devoted my time to advocating for endangered species whenever possible. This includes keeping my website updated with my current work, as it usually involves threatened or endangered species. It has also included interning with the Jane Goodall Institute's community engagement department, volunteering with Defenders of Wildlife as a Red Wolf advocate, and organizing a concert to benefit endangered species and habitats.
---
Concert for Conservation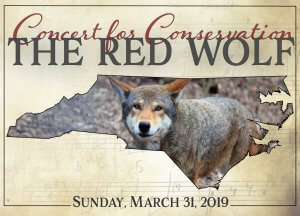 The Concert for Conservation was created to elevate the topic of conservation within faith communities by inspiring audiences through music, educating congregations about imperiled species, and creating a new community of wildlife advocates.
First United Methodist Church in Waynesville, North Carolina has committed to hosting this annual concert to raise awareness for a local or global endangered species.
The first annual Concert for Conservation in 2019 featured the Red Wolf. Nearly $6,000 was raised for red wolf conservation efforts and Christian Hunt from Defenders of Wildlife spoke about the severe threats facing this species. The concert can be viewed on Youtube and is discussed in more detail here.
The 2020 Concert for Conservation 2020 (held virtually due to the COVID-19 pandemic) featured the red wolf once again. This species is on the brink of extinction in our own state, with fewer than 15 individuals remaining in the wild in 2020. It is our duty as North Carolinians to protect our state's natural heritage.
For updates and additional information, please like the Concert for Conservation Facebook page.
---
Red Wolf Advocacy
A little about the Red Wolf: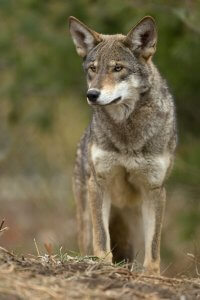 Like its gray wolf cousin, the red wolf faced mass extermination for hundreds of years thanks to human development and widespread misconceptions. By the time they were brought into captivity, only a handful of survivors remained. To restore the species to its rightful place, a small population was released within North Carolina's Alligator River National Wildlife Refuge in 1987.  The population increased in size for decades, peaking at around 150 animals.
However, over the past few years, the US Fish and Wildlife Service, facing political pressure, has lost sight of its mission and turned its back on the red wolf. By eliminating the strategies that allowed them to grow the population, red wolf numbers have plummeted. This species, which once ranged from Pennsylvania to Texas, now has less than 15 individuals remaining in the wild – only in eastern North Carolina.
The red wolf is an American icon; the only wolf whose historical range remained entirely in the United States. As a North Carolinian and a lover of wildlife, I was and am outraged by what is occurring.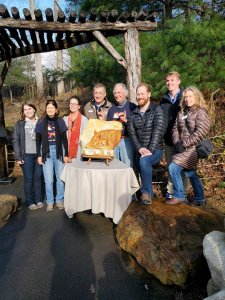 One of the biggest threats to the red wolf is a lack of awareness. I didn't learn about the red wolf until 2017 when when a Defenders of Wildlife representative came to GWU to speak to my ecology class.
Since then, I have tried to elevate awareness for this species, especially in Western North Carolina. I started by writing letters to the editor and blogs. When the population continued to decrease, largely due to gunshot mortalities, I organized the annual Concerts for Conservation in 2019. Most recently, I have organized wide ranging outreach and educational events, including Nettie's Bakery Tea Time for the Red Wolf and the Red Wolf Art Exhibit at Buckner Gallery.
Some of my writings on behalf of red wolves, as well as featured articles, are listed below.
Red Wolf Art Exhibit. Defenders of Wildlife, February 7 2021
Concert for Conservation for the American Red Wolf. Defenders of Wildlife, September 18 2020
Red Wolf Event a Success. Smoky Mountain News, January 22 2020
The Red Wolf, On the Brink. Creation Care Alliance, March 2 2020
Gov. Cooper is a Red Wolf Ally. Letter to the Editor, Smoky Mountain News, Dec 11 2019
Rallying around the red wolf: Haywood man works to save N.C.'s native wolf. Smoky Mountain News, Nov 29 2019
Enjoy a Concert, Support Red Wolves. The Mountaineer, March 28 2019
Don't Let the Last Howls of the Red Wolf Go Unnoticed. Jane Goodall Institute Blog, July 29 2018
The Final Call to Save Red Wolves, The Mountaineer – Letter to the Editor, July 11 2018
Now or Never for the Red Wolf. Letter to the Editor, Smoky Mountain News, May 9 2018
The Red Wolf's Greatest Threat? It's Not Poison. christopherlile.com, July 19 2017
---
Internship at the Jane Goodall Institute
May – August, 2018
remote intern
I am very grateful to Ashley Sullivan, the community engagement specialist at JGI, for allowing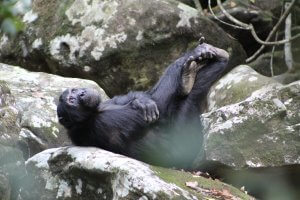 me to intern remotely with the community engagement department. This allowed me to simultaneously work as a research assistant for a lemur project at the Duke Lemur Center.
In this internship, I wrote blogs for Jane Goodall's Good For All News, updated and organized Gombe research publication spreadsheets, summarized Gombe Stream Research Centre reports, and worked on revising the JGI chimpanzee wiki.
My blogs typically focused on the newest scientific findings about chimpanzees, conservation success stories, and endangered species spotlights. The blogs are linked below.
Don't Let the Last Howls of the Red Wolf Go Unnoticed
Science Update: Chimps Start Wars for Power and Benefit from Play
The Future is Here: Artificial Intelligence is Saving Wildlife
How to Follow in Jane's Footsteps and Study Animal Behavior
The Greatest Danger to Our Future is Apathy For Endangered Species