I have been incredibly fortunate to grow up in the Appalachian Mountains, home to the Blue Ridge Parkway and the Great Smokey Mountains National Park. Living here and hiking through the mountains has instilled in me an overwhelming love for nature and conservation. Climbing to mountaintops and perching on rocky overlooks are moments in life that make a person feel so small, but so alive. I would like to share some of my favorite hikes in the Appalachian Mountains, because there is no better way to promote a love for the earth and a passion for conservation than with real life experiences.
Difficult Hikes
Mount Cammerer
This is no hike for the faint of heart or mind. It is a 10-mile hike round trip, with such a steep incline the first two miles that multiple water breaks are recommended. Unless you are a fast hiker or live within a 100 mile radius, it may be difficult to do this hike as a day trip. If you want to turn it into an overnight backpacking trip, there are several shelters nearby once you connect with the Appalachian Trail a few miles up.
Do not let the difficultness of this hike deter you from making this trek. There are a few spectacular views of the mountains along the hike, but for the most part, you can't see how far up you've hiked until you reach the fire tower. In my opinion, this makes it all the more breathtaking when you reach the top, because you can see just how far you've come. There are several great picnic spots on rocks overlooking the mountains, along with an old fire tower that provides great shade on a hot day. In my opinion, a partly cloudy day is the best time to conquer this hike. You will be above the clouds when you reach the top, making for some incredible pictures.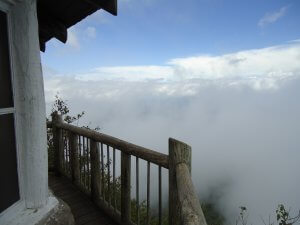 Charlies Bunion
This hike is fairly strenuous and is approximately 8 miles round trip. It offers a shady trail, full of wildflowers in the spring and early summer. Views of the Appalachian Mountains reward hikers throughout much of the trail. When arriving at Charlies Bunion, the rock outcroppings make for excellent photographs and picnic areas, but be sure to watch your footing as steep drop offs surround most of the outcropping. If an extra mile doesn't seem like much, take the mile side trail to the Jump Off on your way back or on your way to Charlies Bunion. This rock outcropping is less traveled and might make for a better place to stop for a picnic or to read a book.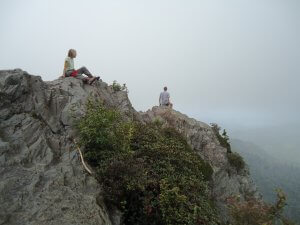 Moderate Hikes
Linville Falls
Linville Falls trail is one of the most popular waterfall hikes in North Carolina and is 2 miles round trip. This unique hike begins at a higher elevation and quickly drops in elevation as you wind down into the Linville Gorge. The steep trail offers several overlooks to see the gorgeous waterfall at different heights. Once at the bottom of the trail, you can make your way to the base of the waterfall to soak your feet in the cool water. It is a perfect spot to bring a good book and a snack. You can even bring your dog on the hike.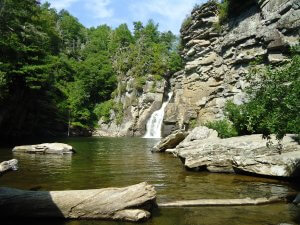 Waterrock Knob 
Waterrock Knob is a short, 1.2 mile hike, but steep inclines and big steps can make it difficult to some extent. This is an easy day hike that begins with a scenic drive up the Blue Ridge Parkway. The parking lot itself has incredible views and picnic tables and many people choose to simply hang out there. Those who choose to make the hike are rewarded with fewer people and an incredible view overlooking the Blue Ridge Parkway's curvy road up to the parkway and the sprawling Blue Ridge Mountains.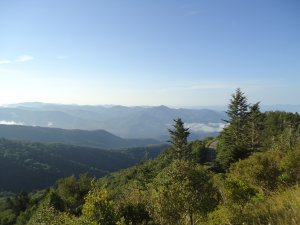 Easy Hikes
Triple Falls/Bridal Veil Falls
DuPont State Recreational Forest is now famous for being used in several Hunger Games scenes. If you want to hang out by the same river and waterfalls as Katniss Everdeen and Peeta Mellark, then these are the hikes for you.
The hike to Triple Falls is a 1 mile loop if you start from the Hooker Falls parking area or a 2.2 mile loop with the addition of seeing High Falls if you begin from the High Falls parking area. Most of the hike is gravel, making it an easy day trip for humans and dogs of all ages. Just don't allow your dogs in the water, as there are strong currents.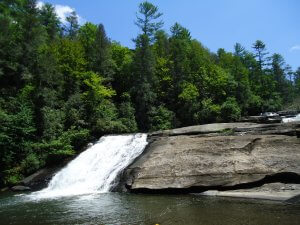 The hike to Bridal Veil Falls is about 3.7 miles round trip and the trail can be accessed from the Triple Falls loop trail or by using the Fawn Lake Access Area. Due to the extra miles, this destination is much less crowded than Triple Falls, but the gravel path is mostly flat and is an easy hike. Many choose to climb up to the top of the falls for an incredible view and refreshing pools.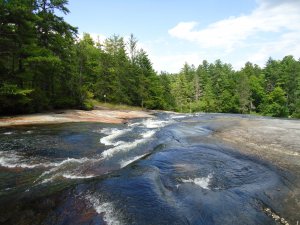 Devil's Courthouse and Black Balsam Knob
These two short hikes can be done individually, or in the same day. They are both found on the Blue Ridge Parkway, only a few miles apart.
The parking lot for Devil's Courthouse is on the way to Black Balsam and the 1 mile hike is incredibly steep, but paved for much of the way. At the top of Devil's Courthouse, you can see just how far you've climbed by looking down on the parking lot. You also get an incredible view of the Blue Ridge Mountains.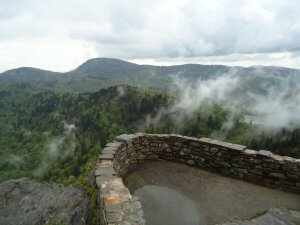 Black Balsam Knob is a hike that can be however long or however short you want it to be. It can be a 1 1/2 mile round trip if you simply want to reach the summit, or you can keep hiking along the Art Loeb trail until you feel like turning around. It is a little steep initially, and the footing is a little difficult if you hike farther than 3 miles out. But it can be an easy day hike and perfect place to picnic, read a book, or bring a dog.