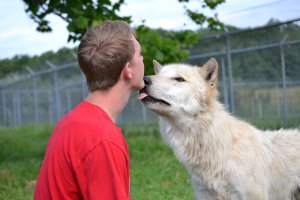 The first month of my internship at Wolf Park has already flown by.  Living on site and being surrounded by adult wolves and wolf puppies every day is a refreshing break from the real world.  Each staff member, intern, and volunteer come from distinctly diverse backgrounds and lifestyles, but we are all united by our love for wolves, conservation, and research.  Between phone problems, poor service, and slow wifi, I have been a little cut off from the rest of the world, but it is small price to pay for living around wolves.
Wolf Park is a nonprofit education, research, and conservation facility that raises and trains socialized wolves.  Captive wolves need to be socialized to give them the best life they can possibly have.  Being trained and acclimated to strange and unfamiliar body handling allows them to receive any medical treatment that is necessary.  In the wild, a toothache or an infected cut could mean a death sentence, but if socialized, a captive wolf can receive the necessary treatments.  Having socialized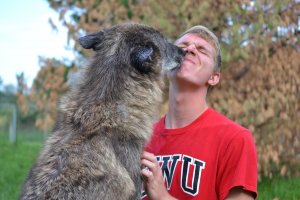 animals also allows researchers to study the behavior and social interactions of wolves.  Because wild wolves have such a long flight distance (how close a human can get to a wild animal before it flees), humans rarely get the opportunity to study wolf behavior.  Typically, wild wolves are studied through the use of radio telemetry, high power binoculars, fecal samples, and tracks.  At Wolf Park, an ethogram, a catalog of behavior, has been compiled over the last 45 years for wolves.  This assists facilities with captive wolves by providing a better understanding of wolf behavior so they can better care for their wolves.  It also benefits researchers studying wild wolves who may not get close enough to observe their behavior.
Socialization simply means that the flight distance of a wild animal is reduced to zero.  That doesn't necessarily mean an animal likes people or is friendly.  Most of the Wolf Park wolves, however, love people.  The animal care staff goes in several times a week to brush coats, apply fly repellent on ears, and do training and enrichment activities with the wolves.  Interns occasionally have the opportunity to join the staff on these visits, which has made every aspect of the internship worth it.  The park also has 5 wolf pups that have been getting 24/7 care and have been progressing on a highly developed training regimen.  Leash walking,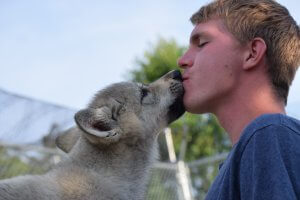 learning basic behaviors, and crate training are all becoming second nature for the pups so that when they are older, they can easily be moved to different enclosures as well as receive medical attention if needed.  Starting training and exposing the pups to new stimuli while they are young also helps them adapt to and handle new stimuli later in life and results in lower likelihood of behavior problems arising when they are older.  Interns have had the opportunity to help with socializing and training the puppies, which is arguably the best part of our internship.  Being swarmed by excited wolf pups is an experience like no other.