Since the beginning of October, I have spent most every day tracking lemurs through the forest. But this past Friday, World Lemur Day I didn't see a single lemur. Why? Because to celebrate this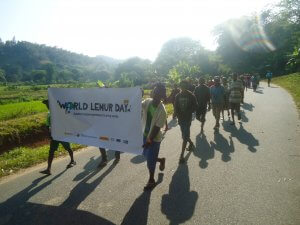 special day, all MBP employees and volunteers joined forces to plant over 15,000 tree seedlings in one day, bringing the week's total 20,200 seedlings! That's a lot of future trees! Typically, around 3,000 seedlings are planted on planting days, which occur 2 times a week. Planting over double the weekly amount in one day required all hands-on deck. Each volunteer in our current cohort, all the lemur monitoring guides, all the reforestation workers, and many people in the local villages all came out to spend the morning planting seedlings. We split up into five groups, starting in one of the local villages and parading to one of five nurseries.
The reforestation efforts here are critical to the long-term survival of the lemurs residing within Sangasanga, Vatovavy, and the other small forest fragments in the Kianjavato area. The lemur monitoring projects, although producing invaluable data, are not what will ensure the future of these species. As Dr. Ed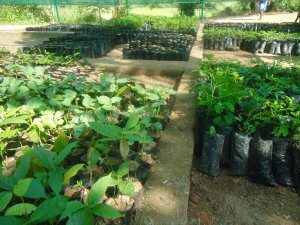 Louis (the executive director of MBP) stated, "if all we did was monitoring, we would be monitoring these species to extinction." The eventual goal of the reforestation efforts occurring here is to connect Sangasanga and Vatovavy, along with a few others forest fragments, with forest corridors to allow population movement and increased genetic diversity between these areas. Sangasanga used to be connected to Ranomafana National Park, about a two-hour drive away, but due to tavy (slash and burn agriculture), the forest has been isolated since the 60s. Vatovavy has been isolated for an even longer period, but is only about a 20-minute drive from Sangasanga.
However, these efforts will be for naught unless the communities in Kianjavato support these projects and experience a change in perceptions regarding tavy and the importance of the non-human primates living in their forests. To inspire a love of lemurs and promote conservation education in the communities, MBP and their partner (Conservation Fusion) held a World Lemur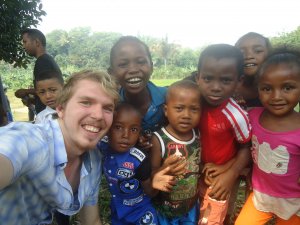 Day event for the schools in the Kianjavato area. While waiting for the schools to arrive, we set up a speaker connected to a solar panel, and spent two hours dancing with the children in the host village. My dancing skills need improvement even by American standards, so trying to keep up with Malagasy children was next to impossible. And when I tried to take a picture with a few Malagasy children, I was rushed by at least 15 kids, all wanting to be in the picture and see their faces on the tiny camera screen. Once the schools arrived, two children from each school competed to win prizes such as soccer balls and frisbees for their school by answering various questions about lemurs and the rainforest. Each child went away with a lemur stuffed animal, several prizes for their school, and a deeper appreciation for lemurs and the land where they live.
Cheers to two exceptional days of celebrating World Lemur Day!